Observations on science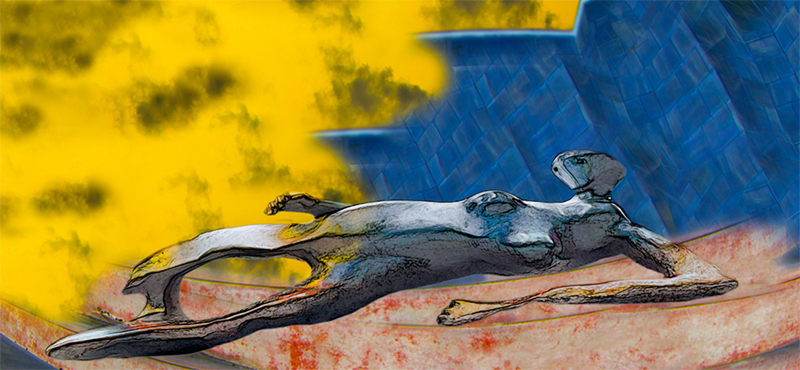 Forever Moore ;
I wondered what would be last to survive in our world.
When our sun goes supernova (assuming our world is still here at that time) I imagined the atmosphere to burn away very quickly, stone to crumble and metals to flow.
I took a photograph of the Henry Moore sculpture 'Reclining Woman : Elbow 1981' outside the Leeds Art Gallery with my 'fisheye' wide angle lens. Over a period of several months I re-visited and worked on the picture until I am now pleased with its present form. I then tried printing it on several papers with the 100% cotton rag satin-finish by Hahnemühle being my favourite.
A unique rendering of this picture is available as an acrylic laminate 600mm x 300mm x 5mm. The picture 'floats' off the wall by circa 5-10mm. £550 (delivery at cost).
Available impressit : please enqiure
Part of an on-going project about my observations on science.
Signed print (front and back) complete with certificate of authenticity (Hahnemuhle hologram system) 8" x 12" edition of 50.
Framed with Tru Vue® glass. 20" x 16" £230 : Mounted print (20" x 16" mount) £150.
sizes are approximate, frames and mounting may change slightly